"ITS BEYOND MY WILDEST DREAMS!"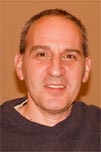 Eric's Goal: Creating unprecedented success in his Speaking Career and boosting the quality of his clients by recording his live presentations and distributing the CD to meeting planners.
"All I did with that recording was hand it out to people and give them the opportunity to listen to it. There was this one lady - I was doing a training in Norway. And she happened to be in charge of marketing for an upcoming coaching conference in Scandinavia. And she handed the CD to the person in charge of programming. And they invited me to be keynote speaker AND the master of ceremonies. "
"From there, the people at that conference had seen me, so now I'm going to be going back to Norway and Denmark and presenting. Next week I'm going to be doing a presentation in

Israel for a large training conference. And that ALSO came out of someone listening to the audio."

"I just keep putting it out there - that's all I do. And people keep liking it and inviting me to do stuff. Its exposed me to a wider audience, its upped the level of the game I'm playing. As you know, I've done presentations before, but I'd never done a Keynote before."
"And suddenly I'm being viewed in a different light and getting up in front of larger groups of people."

"And a MAJOR part of it has to do with this CD. People are really impressed. They think its been produced by professionals!"

ERIC KOHNER
The Act of Leadership
www.theactofleadership.com
***********************

copyright (c) 2009 by Robert Schultz. All rights
reserved.


Rob Schultz guides expertise-based small business professionals
escape the tyranny of trading time for money, by developing
a dynamic, automated, revenue generation machine. Discover the
secrets to developing your own at: