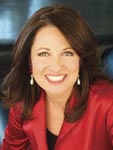 Melanie's Goal: Creating multiple passive revenue streams, raising her profile and boosting her mailing list with free audio CDs
"My experience with audio up to now is that its something that you buy. But the minute I switched gears, I saw it as a very inexpensive promotional tool. The thing you may not realize is this CD has gotten me four interviews with different media programs. It has positioned me as an expert in the industry. Cause the minute you have a production like this that you can hand to someone -- their visual representation of you is escalated ten times."

"Using audio with digital media products expands greatly our ability to impact our customers."



"My partner and I worked on this together. We'd never been trained on any of this. And literally with just a couple of tweaks here and there and someone (Audacious Audio) who could tell us what to do, we recorded this whole thing. We were able to leverage our strengths easily. And it didn't take us forever. I think top to bottom we had it done in a week."

"Working with someone like yourself is a way to help someone get their arms around it and position it so it is coming across very powerfully."
MELANIE STRICK
Founder "Success Connections"
www.successconnections.com

***********************

copyright (c) 2009 by Robert Schultz. All rights
reserved.


Rob Schultz guides expertise-based small business professionals
escape the tyranny of trading time for money, by developing
a dynamic, automated, revenue generation machine. Discover the
secrets to developing your own at: