"ALL OUR MATERIAL CAN BE MADE ACCESSIBLE TO ANY COACH WORLDWIDE "
Michelle's Goal: Creating a Virtual Online University, to continue to offer her "Coach and Grow Rich" Program, converting it to an entirely passive revenue stream, freeing her time and energy for more lucrative ventures.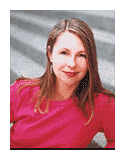 Michelle Schubnel helped build Coach & Grow Rich into the industry's premiere practice building program. And she leveraged the power of streaming and downloadable audio to put the ENTIRE operation on AUTO-PILOT! The six-figure proceeds from the Coach & Grow Rich Virtual University have freed her to move on to her next 'big thing' -- BusinessBuildingCenter.com
Listen to what Michelle says about the power of strategic audio creation, and the assistance she received from Audacious Audio:
"Folks who have a coaching business and only provide coaching services are really limiting the level of success their business can achieve.



Having the ability to easily create audio files and make them available to our members, means I can provide so much more information and content very easily. This means all of our material can be made accessible to any coach worldwide.

Now that I have the skills, I can add additional content, which is very exciting for me.

To me Audacious Audio seems like a no brainer to anyone who's thinking of expanding their business."

Michelle Schubnel, President
COACH & GROW R.I.C.H
www.CoachAndGrowRich.com


***********************

copyright (c) 2009 by Robert Schultz. All rights
reserved.


Rob Schultz guides expertise-based small business professionals
escape the tyranny of trading time for money, by developing
a dynamic, automated, revenue generation machine. Discover the
secrets to developing your own at: